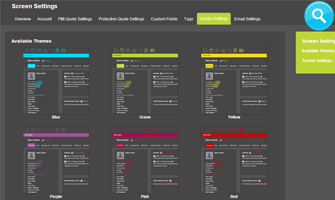 Choose From 7 Stunning Themes
We have created 7 eye-catching designs. Quickly change from style to style whatever the mood that day.
You no doubt use a company software programme or your own solution that looks the same everyday, we realise that people are individual and one style does not suit all. That's why we created different themes to match what type of person you are.
Tagging
Customize your client lists with tagging. For instance you might want to create a list of clients from a various lead source or want to make another list for clients that have buildings and contents or those that have unemployment cover. The list is endless and helps you identify selling opportunities to a specific demographic of client within seconds.